Why does Klezmer music sounds a bit "Turkish"?
Because of their importance in international trade between Istanbul, the Black Sea area and Poland, the Ashkenazim were in continual contact with the Sephardim, the Turks and the Tatars of the Crimea. After the Ottoman conquest of Podolia in 1672, and the period of Phanariot Greek rule in Moldova (beginning 1711), Ashkenazim, Turks and Greeks were drawn into a closer symbiosis. Ottoman musical influence can be seen in pieces composed by khazzonim and klezmorim for both Misnagdic and Hasidic Jews, and in the practice of klezmorim performing Turkish music for the Gentile aristocracies of Bohemia and Poland in the 17th and 18th centuries.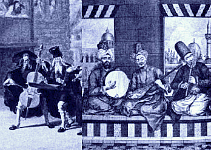 Leading musicologist Walter Zev Feldman (New York) talks about centuries of interaction between Ottoman and Jewish music.
Entrance free of charge, please register online.
Walter Zev Feldman is Visiting Professor of Music at New York University Abu Dhabi, Director of the An-sky Institute for Traditional Jewish Expressive Culture at the Center for Traditional Music and Dance (NYC), and Board Member of Corpus Musicae Ottomanicae (University of Münster). Author of Music of the Ottoman Court (Berlin, 1996) and Klezmer: Music, History, Memory (Oxford, 2016).