Benjamin Balint talks with Matti Friedman about his latest book published in Russian translation
In collaboration with the Knizhniki Publishing House
Knizhniki Publishing House are releasing the Russian edition of "Spies of no country", the latest book by the Israeli author and journalist Matti Friedman. The book received critical acclaim and won the 2018 Natan Book Award. "Spies of no country" shares the previously untold stories of the four Mizrahi Jews who took part in a spy unit called the Arab Section, thus in effect finding themselves belonging with neither side of the conflict. These were the first Israeli spies, the roots of what later became Mossad, operating even before the country was born.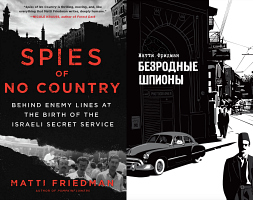 To celebrate the launch of the Russian edition of the book Matti Friedman will talk about it with the Israeli author and literary critic Benjamin Balint.
Friedman succeeds in portraying the "stories beneath the stories" that acted as bedrock to the rise of the Mossad and serve still as a window into Israel's troubled soul.
(The New York Times)
It is 1948, the year when the British mandate over Palestine will end. The State of Israel does not exist yet but its spies are already involved in an intricate intelligence game. These young fearless Mizrahi men are going undercover, gathering secret information, planning diversions and dangerous encounters on enemy territory. These spies do not have their own country yet, but they are already prepared to sacrifice their lives for it. Matti Friedman shares the previously untold story of the famous mista'arvim unit, the "Arab Section" which consisted of Jews who were native to the Arab world and could thus easily assume Arab identities. This gripping narrative is based on the testimonies of those spies who survived as well as the recently declassified Israeli military archives.
(the blurb of the Russian edition)
Register for the online event for free
Upon registration the attendees will receive a 15% discount code on all "Knizhniki" titiles, including "Spies of no country".
The event will be held in English with simultaneous Russian translation.
Matti Friedman is an Israeli Canadian journalist and author. Between 2006 and the end of 2011, Friedman was a reporter and editor in the Jerusalem bureau of the Associated Press (AP) news agency. During his journalistic career, he also worked as a reporter in Egypt, Morocco, Lebanon, Moscow and Washington, D.C. Friedman is the author of two other award-winning titles in the investigative journalism category – "The Aleppo Codex: A True Story of Obsession, Faith and the Pursuit of an Ancient Bible" (2012) and "Pumpkinflowers: A Soldier's Story" (2016)..
Benjamin Balint, a research fellow at the Van Leer Institute in Jerusalem, is the author of Running Commentary (2010), Kafka's Last Trial (2018), and Jerusalem: City of the Book (co-authored with Merav Mack, published by Yale University Press and forthcoming in Russian with Knizhniki Publishing House). His writing appears in the Wall Street Journal, Die Zeit, Haaretz, and the Claremont Review of Books, and his translations from the Hebrew have appeared in the New Yorker.