Celebration of Egyptian Jewish culture
In partnership with CCI Fabrika and the Embassy of the State of Israel in Russia
Israeli culture critic and filmmaker Dr. Rami Kimchi (PhD) of Ariel University, Israel, presents his film Cinema Egypt (2001) – an artistic documentary of his Sephardi-Egyptian mother Henriette Azar's reminiscences interlaced with scenes from the classic Egyptian film, Leila the Village Girl (1941), featuring Leila Morad and directed by Togo Mizrahi, Jewish stars of the era. Cinema Egypt is a poetic exploration of complicated relationships of the Jews from Arab countries with the State of Israel, European colonialism and Zionist ideology. The film was successfully presented lately in Europe and US (Paris, New York, Washington DC and more).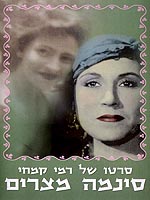 The online screening of the film ('47, Hebrew, Arabic, Russian subtitles) is a Russian premier of the film. It will be prefaced by Q/A session with the director Dr. Rami Kimchi and followed by a musical epilogue (classical Egyptian music performed by Basem Al-Ashkar, oud).
Rami Kimchi is an Israeli culture critic and filmmaker. He received his PhD in Near Eastern Studies from the University of Michigan. He has published many articles and two books, one of them – The Israeli Shtetls – Bourekas Films and Yiddish Literature (2012) – is about to be published in USA by University of Indiana Press soon (2020).Kimchi was also the winner of the Dov Sadan Prize for Hebrew Literature. Apart from being a scholar in the field of contemporary Israeli culture Kimchi is a prominent Israeli filmmaker. Kimchi won international prizes for his film Galia's Wedding at the International Film Festival in Jerusalem (best fiction) and the Munich International Film Festival (best program). His late film «The Night of Fools» won the Israeli Ministry of Culture prize (2015).
ONLINE BROADCAST: