Famous architect explains the symbolism of his recent synagogue building in Mainz
Public talk and tour as part of Eshkolot Festival of Jewish Texts and Ideas "Jerusalem am Rhein: Jews and Christians in Medieval Germany"
The most discussed architectural projects in contemporary Germany are the newly built synagogues in Mainz, Dresden, Munich, Ulm and other cities. These architectural highlights of the last decades are remarkable signs of Jewish renewal after the Holocaust. To which extent do they continue the historic legacy of German Jewry rooted in Medieval Ashkenaz?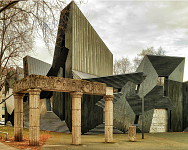 The architect Manuel Herz, who designed the famous new synagogue of Mainz, talks about aesthetic and social functions of the new religious buildings and leads a guided tour of his synagogue building.
The lecture and tour are in English without translation. Entrance free.