Israeli architect shows the black shadows of White City
In partnership with Garage Museum of Contemporary Art and Ad Marginem Press
In 2004, the city of Tel Aviv was declared by UNESCO a World Heritage Site, an exemplar of modernism in architecture and town planning. Today, the Hebrew city of Tel Aviv gleams white against the desert sky, its Bauhaus-inspired architecture betraying few traces of what came before it: the Arab city of Jaffa.
Israeli architect and author Sharon Rotbard offers two intertwining narratives, that of colonized and colonizer. It is also a story of a decades-long campaign of architectural and cultural historical revision that cast Tel Aviv as a modernist "white city" emerging fully formed from the dunes while ignoring its real foundation—the obliteration of Jaffa. Rotbard tells how Tel Aviv has seen Jaffa as an inverted reflection of itself—not shining and white but nocturnal, criminal, dirty: a "black city." Jaffa lost its language, its history, and its architecture; Tel Aviv constructed its creation myth.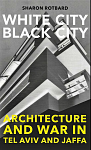 Russian translation of Sharon Rotbard's book is published in Fall 2016 by Ad Marginem Press and Garage Museum.
Entrance free, preliminary online registration required.