Author of the newly built Mainz synagogue on the relevance of synagogue architecture in Germany

In partnership with Goethe Institute in Moscow
The most discussed architectural projects in contemporary Germany are the newly built synagogues in Mainz, Dresden, Munich, Ulm and other cities. These architectural highlights of the last decades are remarkable signs of Jewish renewal after the Holocaust. However, one should not ignore the complicated and often controversial political agenda behind these projects.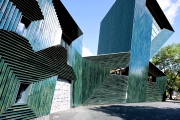 Photo © Iwan Baan
The architect Manuel Herz, who designed the famous new synagogue of Mainz, talks about aesthetic and social functions of the new religious buildings and discusses the ambiguous position of the architects torn between the role of a free artist an that of a court jester.
Manuel Herz's lecture will take place at the Garazh Educational Center (Krymsky Val, 9, building 4).
Entrance free, but online registration is required.
The lecture is in German with translation into Russian.