Registration
Kabbalistic Yiddish
Introducing Aaron Zeitlin's Modernist Poetry
Scholar of Kabbalah
Nathan Wolski's talk «Kabbalistic Yiddish: Introducing Aaron Zeitlin's Mystical Modernist Poetry»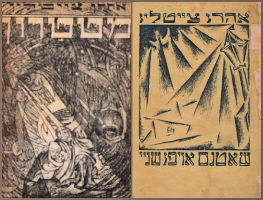 Described by his best friend Bashevis-Singer as the greatest Yiddish poet, Aaron Zeitlin (1898-1973) is known today only by a select few. Like his father, the mystic-writer-scholar Hillel, Aaron stood at the centre of the Warsaw Yiddish literary scene in the 1920s, where his early poetry fused avant-garde forms with motifs and ideas from the Zohar, the major work of the classical Kabbalah. His kabbalistic poems, of which there are hundreds, represent the highpoint of the Kabbalah-Yiddish fusion.
Nathan Wolski is a scholar of Kabbalah with the Australian Centre for Jewish Civilisation, Monash University, Melbourne, Australia. Among his publications are A Journey into the Zohar (SUNY, 2010), The Zohar: Pritzker Edition, vols 10 and 12 (Stanford University Press, 2016, 2017), and most recently Kabbalistic Yiddish: Aaron Zeitlin's Mystical-Messianic Poetics (Cherub Press, 2020).
Register (free) to get the invitation to Zoom conference
The talk is in English with simultaneous (switchable) translation into Russian.
January
February
March
April
May
June
July
August
September
October
November
December
2008
2009
2010
2011
2012
2013
2014
2015
2016
2017
2018
2019
2020
Archive of events