Registration
Drawing Secrets
Esoteric Images in Hebrew illuminated Manuscripts
Art historian
The talk by the Israeli art historian Sara Offenberg will illuminate the reflection of esoteric ideas in Hebrew illuminated manuscripts from thirteenth century Ashkenaz (German lands), with a focus on images of knights and Ezekiel's vision of the divine Chariot.
It examines the texts and the images in Mahzorim (Prayer books) and Masoretic Bibles in conjunction with military history, in order to provide a comprehensive description concerned with the ideas of the Hekhalot literature and two principal esoteric traditions in Ashkenaz: Hasidei Ashkenaz (German Pietists) and Rabbi Nehemiah, the Prophet from Erfurt.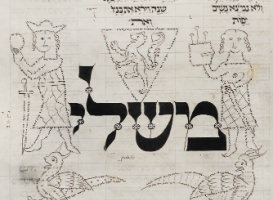 Jews adopted well-known Christian symbols of high social rank and added inner esoteric meaning; this self-identification elevated their status, even if only in their own eyes, and it informs us as to how they viewed their surrounding society and themselves within its social/spiritual elite. The paper seeks to understand how the Jewish patrons envisioned themselves and their neighbors, through a prism of images and textual esoteric traditions.
The event will be held in English with simultaneous Russian translation.
January
February
March
April
May
June
July
August
September
October
November
December
2008
2009
2010
2011
2012
2013
2014
2015
2016
2017
2018
2019
2020
Archive of events